Bear & Owl is a company me and my dear friend Stu have started. For a little context Stu is affectionately known as Stubear. He luuuurves bears, hence the Bear. Within about 2 weeks of first meeting each other at work he Skyped me saying "I've been thinking about what I'd call you if you were an owl". From then on I became the owl. It's stuck ever since.
Despite the title, Bear & Owl was officially born (read, made official at Companies House) on the 30th August. Since then we've been trying to get things like business plans and branding sorted.
About a week ago, Bear & Owl became more of a reality than ever when our Bear & Owl illustration was paid for and released.
Without further ado, I give you, the Bear & Owl.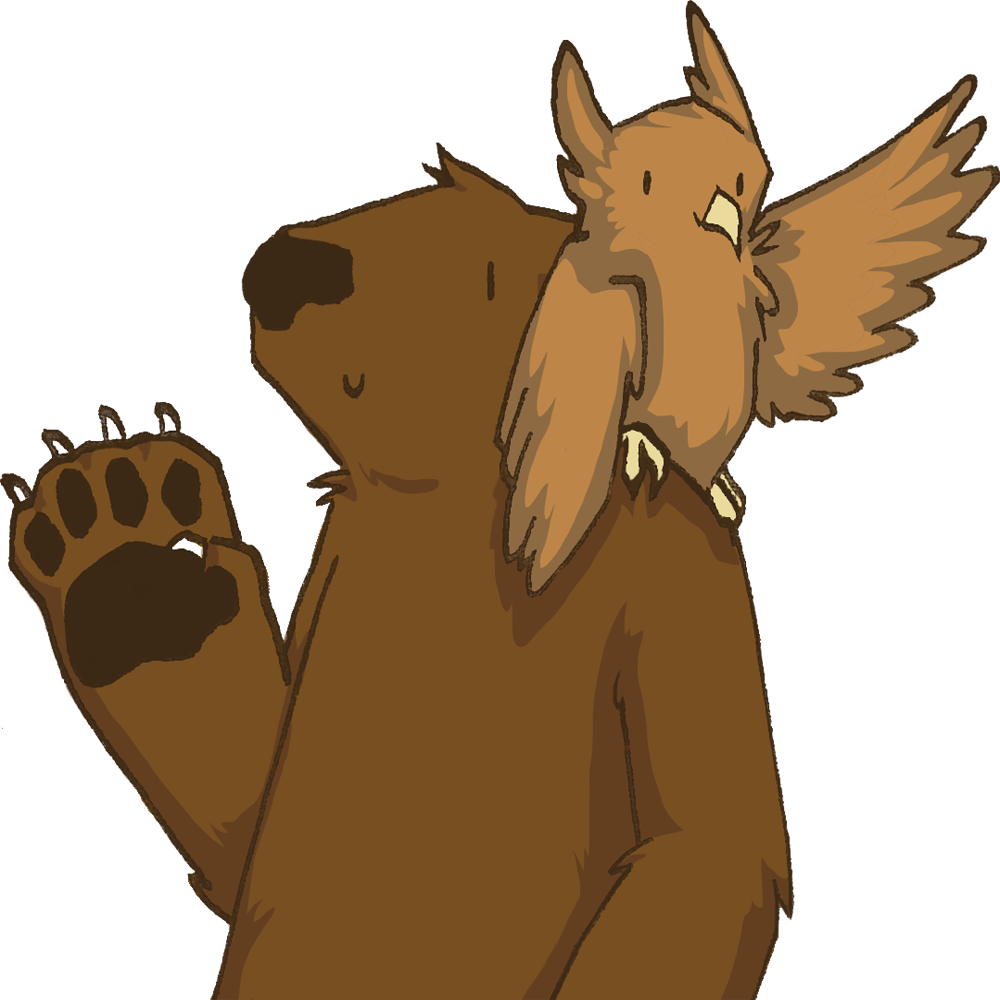 The work was carried out by an illustrator named Daisy, @daisyhillard on the twitters. Her site can be found here. We'd like to say a massive thank you to Daisy for her work bringing the Bear & Owl in our heads to life. Check her work out, because it's awesome!
I guess this brings us on to why Bear & Owl has been created. I think a great deal of this comes down to the friendship Stu and I have. We enjoy each others company and get along very well, but transferring that to code we have a very similar attitude to our work and what we do. We're both passionate and love to talk things through together. We have a mixed skillset, that when combined covers pretty much all bases. Stu is far more talented (and, don't tell him, but I think he's a bit of a cock for being as good as he is at everything code related) than me, but this always keeps me on my toes to improve.
If there's one thing that's absolutely certain in this life, it's that you only live once. One chance to give all those things a go. We've both worked with people, and in environments, where the philosophy and approach to work and development was completely the opposite to ours. Personally this burned me out badly. We believe in doing things well. We believe in transparency. We believe in trying to be the best we can. We don't believe in cutting corners. We don't believe in ripping others off. We want to put all these things at the forefront of what Bear & Owl is.
So what do we plan to do? This is still a 'work in progress' if you will. We'll be looking to take on some client work in the New Year - so if you've got a project that you'd like looking at by us, do get in touch. We've got a couple of projects lined up, but have plenty of room for more. We're also looking very seriously at pursuing the startup / product route. We have the idea, we've got the business plan, we have roadmaps, we even have the most amazing of designers on board - but now we need to find a way to fund such an endeavour.
As mentioned above our combined skillset is extremely varied. We'd be willing to look at projects spanning games, software, mobile and the web. We want Bear & Owl to be an incredibly approachable, and more importantly - honest, company. It's a little tacky, but your project will be "crafted with love".
Stu and I are incredibly excited about the future of Bear & Owl. Everyone needs a woodland friend :)