Social Media doesn't need to be hard
It's interesting watching companies on Twitter. It's like some just "get it" and others manage to push their customers away with it.
Everyone's different, but for me I like to see a company engage with their customer base. That's all. Whether that be responding to a query, or even a complaint. Or joining in with some sort of joke. The companies that just use Twitter to repeatedly tweet offers, or blog posts, or notices are missing the value of Twitter in my opinion. The account becomes faceless, and lacking any sense of a personality. And it's personalites that draw people in; I love Innocent Smoothies for this reason. So much personality and joy in one brand. They actually make it a pleasure to read the packaging on their bottles, and this is what a Twitter feed should be like.
I was reminded of how simple an amazing social media presence is recently by John Lewis. I had this conversation with @johnlewishare on Twitter via the Bear & Owl account.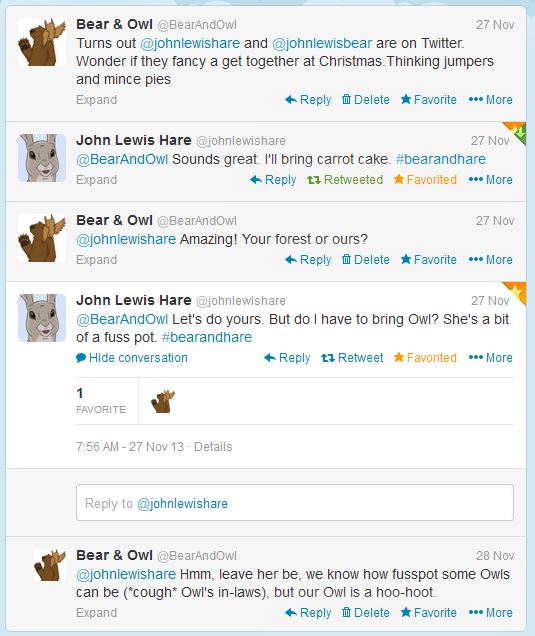 These tweets made me giggle and smile. Consequently I showed other people, they also enjoyed them. As a result John Lewis went up in my estimations through some simple Twitter interactions. Sometimes (actually, a lot of the time) simple is best.